Q&A: Michael B. Jacobs, MD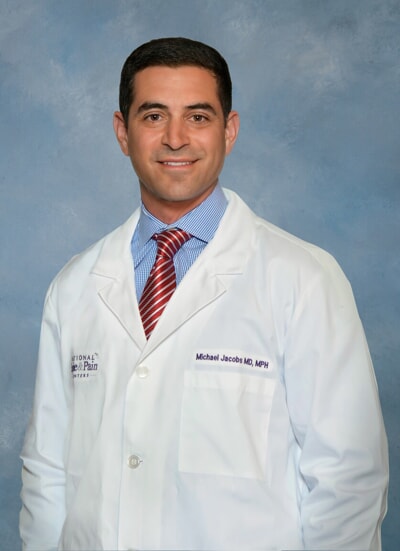 Michael B. Jacobs, MD has nearly 25 years of experience in pain medicine, including service to U.S. military personnel around the world as a member of the U.S. Navy Medical Corps. He is skilled in the use of fluoroscopic and ultrasound-guided pain management therapies, such as steroidal injections and nerve blocks, as well as other procedures to treat chronic pain such as neurotomy, percutaneous lumbar decompression, spinal cord stimulators and intrathecal pain pumps, to name a few.
Q: What drew you to the field of pain management and/or anesthesiology?
A: My military experience at Walter Reed National Military Medical Center exposed me to service members who developed chronic pain following complex war injuries. Caring for these patients, improving their pain and seeing them successfully return to their active lives inspired me to pursue sub-specialty training in pain management.
Q: Is there a particular treatment or technology on the horizon that has you excited about the future of pain management and opportunities to help your patients?
A: The continued development of minimally invasive treatments such as neuromodulation, regenerative medicine and others can help patients reduce the need for sedating medications and major surgeries. I am seeing more and more patients get relief from platelet rich plasma and autologous (from the patient's own body) mesenchymal stem cell treatments as well as spinal cord, dorsal root ganglion and peripheral nerve stimulators.
Q: What gets you excited about working at NSPC?
A: I am happy to be working with a motivated team of healthcare professionals to provide compassionate and quality care for our patients.
Q: What do you enjoy the most about your job? What drives you to do it?
A: I enjoy getting to know my patients, hearing their stories and working together to develop a plan to address their symptoms. It is very rewarding to see my patients achieve their goals of returning to activities that were previously limited by chronic pain.
Q: What do you like to do in your free time (hobbies, interests, etc.)
A: I enjoy watching and playing all sports. Right now I really enjoy golf, tennis, pickleball and scuba diving. I also enjoy beach vacations, board games and hikes with my family.
Q: What would you do for a living if you weren't a doctor?
A: I'd be the general manager of the New York Yankees, the PGA tour commissioner or a stay-at-home dad.
Q: What is your philosophy about doctor-patient interaction and patient-centered care?
A: A good doctor-patient relationship is the foundation of quality medical care. The relationship grows and succeeds with open lines of communication and mutual respect between both parties.