Q&A: Hunt Hapworth, MD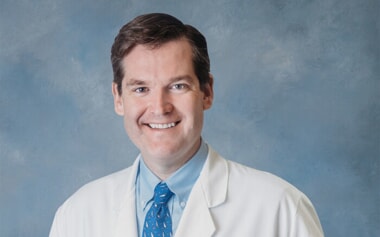 Hunt Hapworth, M.D. earned his medical degree from the University of Virginia School of Medicine in Charlottesville, VA and completed his residency in anesthesiology at the University of Alabama at Birmingham School of Medicine. He returned to the University of Virginia School of Medicine to complete a fellowship in Anesthesiology. Dr. Hapworth is board certified in both anesthesiology and pain medicine and specializes in minimally invasive interventional pain procedures.
Q: What drew you to the field of pain management and/or anesthesiology?
A: As an anesthesiologist, my job was to help guide patients through the surgical process as safely and with as little pain as possible. But I was never able to develop a therapeutic relationship with them. The field of pain management allows me to relieve suffering and to improve functionality for my patients while building relationships with them. I can follow patients who suffer from more chronic and complex pain issues over time, working to minimize their pain and maximize their function and quality of life.
Q: Are there any specific treatments, technologies or diagnostic specialties that you are particularly excited about?
A: Technology and cutting-edge procedures allow me to offer targeted treatment of pain generators and provide more individualized care. Radiofrequency ablation for lumbar discogenic pain and osteoarthritic spinal disease often caused by lumbar spinal stenosis can provide dramatic relief and functional improvement for elderly patients who have struggled with mobility and activity tolerance. These patients are so often told they just need to learn to live with the pain because these joints are not particularly well treated with medications or surgery. The reality is we can make a big difference through minimally invasive procedures.
Q: What gets you excited about working at NSPC?
A: I am part of a network of board-certified pain physicians who offer the gamut of interventional techniques. I am able to collaborate with these experts in different areas of pain medicine and train with them. NSPC also leads an annual meeting to discuss the latest developments in pain medicine.
Q: What do you enjoy the most about your job? What drives you to do it?
A: I enjoy educating my patients and helping them understand their pain process to empower them to engage in their treatment and achieve relief.
Q: What do you like to do in your free time (hobbies, interests, etc.)
A: I enjoy reading, cooking, traveling and spending time with my family.
Q: What would you do for a living if you weren't a doctor?
A: I would probably be a veterinarian because I love animals and enjoy applying science and working with my hands.
Q: What is your philosophy about doctor-patient interaction and patient-centered care?
A: Every patient's pain is different. We have to look at each and every patient's anatomy, pain pathology, pain experience and treatment history individually. One size does not fit all when it comes to treatment and we have to tailor our care to meet the goals of each patient.