Featured Doctor: Francisco Ward, D.O.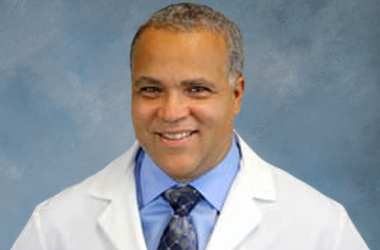 Francisco Ward, D.O., has joined National Spine & Pain Centers and will be seeing patients at our new St. Agnes offices in Baltimore. Dr. Ward is a board-certified physiatrist with a subspecialty certification in Pain Medicine. As a Doctor of Osteopathy (D.O.), Dr. Ward is trained to treat the whole body by understanding the musculoskeletal system and how it influences other body systems. He has extensive experience treating chronic pain in geriatric patients, as well as in injured workers and athletes.
Dr. Ward is skilled in a host of minimally invasive interventional treatments, including steroidal injections, kyphoplasty, and trigger point injections. These are often used to treat conditions such as spinal stenosis, joint arthritis, and spinal compression fractures.
A lifelong resident of Maryland, Dr. Ward graduated from Cardinal Gibbons High School and the University of Maryland. He earned his D.O. degree from the Chicago College of Osteopathic Medicine (Midwestern University) in 1992. After completing an internship in Internal Medicine at Good Samaritan and Johns Hopkins hospitals, Dr. Ward performed a residency in Physical Medicine and Rehabilitation at Johns Hopkins and Sinai hospitals in Baltimore.

Prior to joining NSPC, Dr. Ward was the medical director and founder of the Seton Pain & Rehabilitation Center in Baltimore. He has been the Chief of the Division of Occupational Physical and Rehabilitative Medicine at St. Agnes Hospital since 1999. He also has admitting privileges at Howard County General Hospital for physiatry, pain management, and rehabilitation.