Dr. Sean Li Leads Lecture at 2018 FSIPP Annual Meeting in Palm Beach, Florida
Dr. Sean Li from Premier Pain Centers, an affiliate of National Spine & Pain Centers, recently led a lecture at the 2018 Florida Society of Interventional Pain Physicians Annual Meeting that was held on July 19-22 at The Breakers Resort in Palm Beach, Florida.
During the Advancing Neuromodulation: Breakthroughs in New Pain Areas session, Dr. Li presented on High-Frequency Spinal Cord Stimulation, including the challenges involving its low-frequency alternative. Dr. Li was joined by Nevro's Chief Medical Officer Dr. David Caraway and Interventional Pain Medicine Specialist Dr. Miguel Attias.
About FSIPP
FSIPP has been a leader in promoting fair legislation, access to care and protecting reimbursement. They continue to educate payors, state officials and organizations regarding our area of expertise. Their mission is to promote the development and practice of safe, high quality, cost-effective interventional pain management techniques for the diagnosis and treatment of pain and related disorders, and to ensure patient access to interventional pain medicine (or management) doctors and these treatments in the State of Florida.
The FSIPP 2018 Meeting features an interventional pain medicine faculty, some nationally and internationally recognized. This content led conference will help the interventional pain medicine practitioner expand and update existing knowledge/skills regarding ever-increasingly sophisticated diagnostic and practice guidelines, to share new ideas for evaluation and treatment techniques, and to increase the practitioner's knowledge and ability to act and advocate for patients within the current medical legislative and regulatory environment. Educational formats include lectures, PowerPoint presentations, a Panel, and Question and Answer time built into every presentation for audience participation and learning.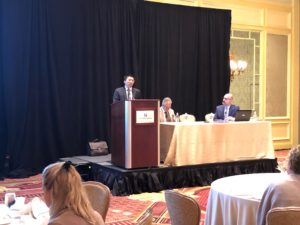 About Dr. Sean Li
Dr. Sean Li specializes in interventional pain management. His clinical interest is in neuromodulation therapy such as spinal cord stimulation, high-frequency stimulation, dorsal root ganglion stimulation and peripheral nerve stimulation. He has published numerous professional articles and written textbook chapters on the topic of pain and is actively involved in clinical research that will help advance the field of interventional pain medicine.