Q&A: Rasheed Singleton, MD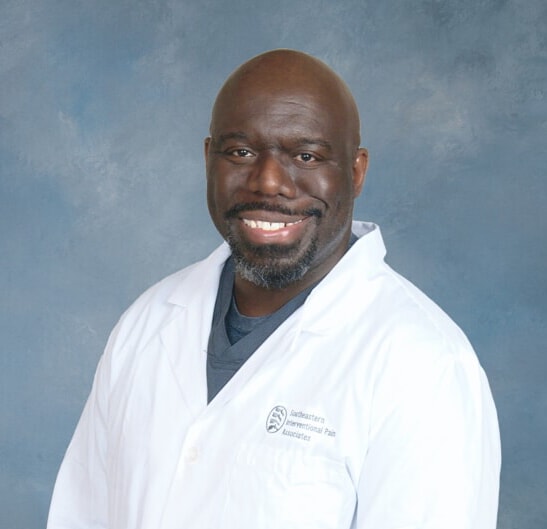 Rasheed Singleton, M.D., earned his medical degree from the Medical College of Pennsylvania & Hahnemann University School of Medicine (Drexel University School of Medicine) in Philadelphia. He performed his internship at the Lankenau Hospital in Wynnewood, PA, before completing his residency in Anesthesiology at The Hospital of the University of Pennsylvania in Philadelphia. He then completed a fellowship in Pain Medicine at Stanford University Medical Center in Stanford, CA. He specializes in interventional pain procedures including neuromodulation, nerve blocks and epidural steroid injections to address chronic musculoskeletal pain.
Q: What drew you to the field of pain management and/or anesthesiology?
A: Pain Medicine is a specialty that enables me to spend time in earnest conversation with my patients, building relationships that allow me to be an advocate for their care. Minimally invasive interventional pain treatments, including regenerative medicine, are helping patients who suffer from a myriad of pain problems regain function, lessen pain and enjoy an improved quality of life.
Q: Are there any specific treatments, technologies or diagnostic specialties that you are particularly excited about?
A: I have a keen interest in spinal cord stimulation for chronic neuropathies as well as radiofrequency ablation for chronic axial spinal arthropathy/spondylosis for patients living with chronic pain.
Q: What gets you excited about working at NSPC?
A: I am excited to help build on the culture of the organization and to grow professionally from the educational opportunities that are afforded to me by working with a network of experienced pain medicine specialists.
Q: What do you enjoy the most about your job? What drives you to do it?
A: I enjoy meeting new challenges each and every day to address the chronic pain my patients suffer from. Helping patients regain function and begin participating in life again is very gratifying.
Q: What do you like to do in your free time (hobbies, interests, etc.)
A: I enjoy traveling with my wife, finding and enjoying different ethnic cuisine, and spending time with my family and friends.
Q: What would you do for a living if you weren't a doctor?
A: I have always wondered what it would be like to become a professional chef and think I would have explored that field.
Q: What is your philosophy about doctor-patient interaction and patient-centered care?
A: The cornerstone of practicing medicine is the doctor-patient relationship, and all aspects of treatment spring from that relationship. My approach over the last 17 years is to have a conversation with my patients and to treat them as equals in addressing their health, what they perceive their problem to be, and how I can help them move forward. I am a fervent believer in helping educate the patient understand their own body and what is truly causing the pain that is interfering with their life.