Q&A: Meet Deborah T. Mowery, MD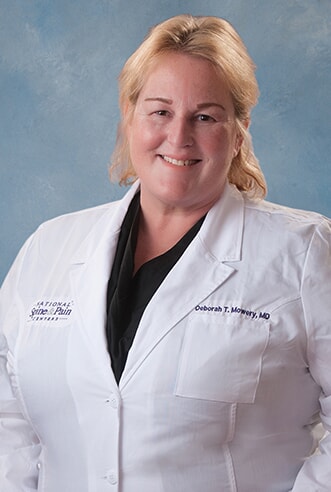 Deborah T. Mowery, M.D. has joined National Spine & Pain Centers' affiliated office in Roanoke, VA where she specializes in providing the latest techniques in pain management therapies, including neurotoxins, to provide improved pain relief and quality of life to her patients.
Q: What brought you into the field of pain management?
A: I chose pain management so I could offer a physiatry approach to treating pain. This means I view pain holistically and consider how nutrition, behavioral, physical and social limitations impact patients' quality of life. I look at the whole picture so I can help reduce their pain and improve their overall functional abilities.
Q: What diagnostic specialties/treatments interest you most?
A: Diagnostically, I specialize in neurotoxins and how they can reduce pain and improve function for patients with movement disorders and chronic headaches to help patients resume their activities of daily living.
 
Q: What gets you excited about working at a National Spine and Pain Centers affiliated office?
A: Working in affiliation with NSPC will enable me to provide a fully comprehensive approach to pain management. NSPC offers both interventional treatments as well as pharmacologic management to minimize the use of opiates in treating pain. Our comprehensive approach to pain management recognizes the benefits of treatments such as neurobehavioral and psychotherapy as complements other treatments such as chemo denervation and spine and peripheral joint/connective tissue interventions.
Q: What do you like most about your job?
A: My favorite thing about practicing pain management is seeing patients enjoy improved outcomes and regain their quality of life. This is all about treating real people with real pain and helping them have hope for a better tomorrow.
Q: What makes you different from other doctors in your practice?
A: I believe my expertise in neurotoxins helps me improve pain in patients suffering from under-treated conditions such as headaches, writer's cramp, and involuntary muscle contractions in the cervical, focal and oral- mandibular areas.
Q: What is your favorite activity outside of work?
A: My joys are my children, my faith and my puppy, Chichi.
Q: What would you do if you were not a doctor?
A: If I wasn't a physician, I would be a foster mom to as many kids as I could!
Q: What is the most important factor in a doctor-patient relationship and why?
A: For me, the most important thing is to transfer my knowledge to my patients so we can establish a mutual relationship of trust and respect.