Acute and Chronic Pain Treatment Seminar with Dr. Budampati
National Spine and Pain Centers (NSPC) recently hosted an educational seminar for chiropractors. Dr. Suneetha Budampati from our Arlington (Shirlington), VA office spoke on The Role of Interventional Pain Management with Chiropractors in the Treatment of Acute and Chronic Pain.
The seminar was conducted on Thursday, August 23, 2018 in conjunction with the Unified Virginia Chiropractic Association. Over 16 chiropractors from practices across Northern Virginia were in attendance.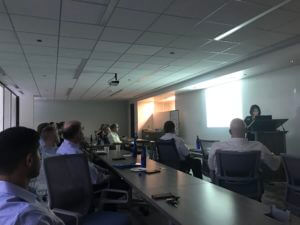 The Doctor's decision to specialize in the field of Physical Medicine and Rehabilitation for residency training was fostered by an unwavering desire to help improve people's functional health and quality of life. Her expertise includes fluoroscopic-guided spinal injections, percutaneous intradiscal therapies, neurostimulation, radiofrequency neurotomy and percutaneous vertebroplasty.