Q&A: Brian C. Wolf, MD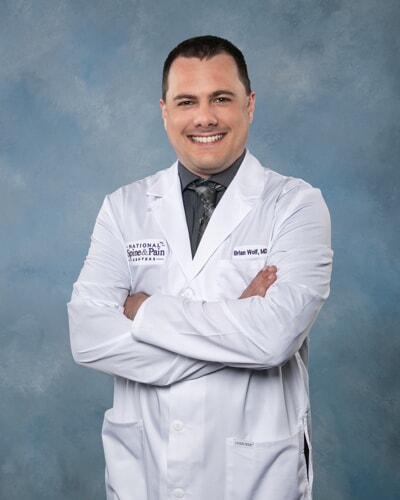 Brian C. Wolf, MD specializes in offering his patients some of the latest advances in minimally invasive pain management treatments, including spinal cord stimulation, Vertiflex™ for spinal stenosis and Intracept® radiofrequency neurotomy. Dr. Wolf is a veteran of the U.S. Air Force, having served as a flight surgeon throughout his military career.
Q: What drew you to the field of pain management and/or anesthesiology?
A: Pain not only affects people physically, but takes a toll on them mentally and emotionally as well. I have seen pain throughout all stages of life and I want to help people get through the tough times.
Q: Is there a particular treatment or technology on the horizon that has you excited about the future of pain management and the opportunities to help your patients?
A: There are several newer treatments that will have a big impact on our patients. Procedures like Vertiflex™, peripheral stimulation, and Intracept® are providing patients with more non-surgical options for alleviating their pain.
Q: What gets you excited about working at NSPC?
A: I am excited to work with a dedicated team that has the resources to focus on alleviating each patient's pain.
Q: What do you enjoy the most about your job? What drives you to do it?
A: Pain is one of the most common reasons people go to a physician. The field of pain medicine has seen explosive growth, in not only the study of pain, but the treatment of pain. I am grateful for the opportunity to help people through challenging moments in their lives.
Q: What do you like to do in your free time (hobbies, interests, etc.)
A: My family enjoys visiting new places and camping together. My girls also enjoy taking me on as many roller coasters as possible when we visit theme parks. I also love to spend time playing—and watching my girls play—sports.
Q: What would you do for a living if you weren't a doctor?
A: A love for aviation is one of several reasons I joined the Air Force. I cannot see why I wouldn't have continued on a path to becoming a pilot if I did not become a physician
Q: What is your philosophy about doctor-patient interaction and patient-centered care?
A: It is my job to provide several different evidence-based options to patients and to give them the best advice I can. Once the patient has come up with their desired treatment path, we work together to achieve those desired results.