Q&A: Yeshvant A. Navalgund, MD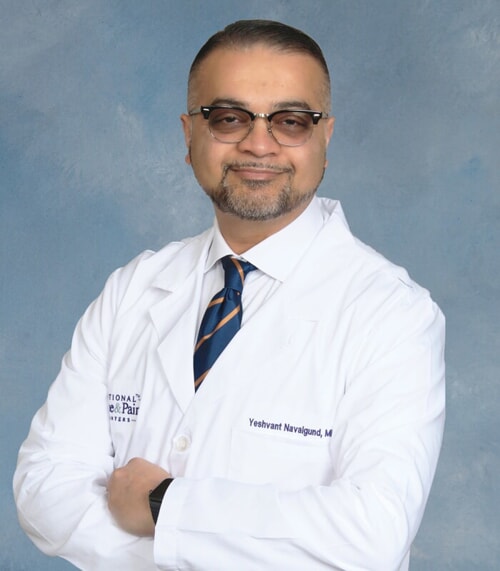 Yeshvant Navalgund, M.D. specializes in using the latest advanced medical technologies to treat spinal injuries and pain, including kyphoplasty for compression fractures and spinal cord and peripheral nerve stimulation for chronic back pain.
Q: What drew you to the field of sports medicine, rehabilitation and pain management?
A: I have always been drawn to new and innovative technology. Pain management has always focused on putting cutting-edge technologies to use in medicine, so it was a natural fit for me.
Q: Are there any specific treatments, technologies or diagnostic specialties that you are particularly excited about or have particular expertise with?
A: I am most excited about advanced minimally invasive treatments for managing pain such as spinal cord stimulation, peripheral nerve stimulation, lumbar and SI Joint fusion, kyphoplasty and virtual reality therapies. I also believe that the ability to analyze DNA and direct custom treatments for patients through technologies like spinal cord stimulation is very exciting.
Q: What gets you excited about working at NSPC?
A: NSPC is growing and incorporating many new technologies to treat patients. This is exactly the environment I thrive in.
Q: What do you enjoy most about your job?
A: Every day, I learn from my patients through their experiences and through that, I learn to be a better person as a whole.
Q: What do you like to do in your free time (hobbies, interests, etc.)
A: I am a technophile at heart. I enjoy building new and innovative technology that aids in improving the education of physicians.
Q: What would you do for a living if you weren't a doctor?
A: A talk show host! I could give advice on nothing and opinions on everything.
Q: What is your philosophy about doctor-patient interaction and patient-centered care?
A: The patient should always remain the center of care. It is the role of doctors and the support staff to facilitate care around the patient.