Q&A: Sascha Qian, MD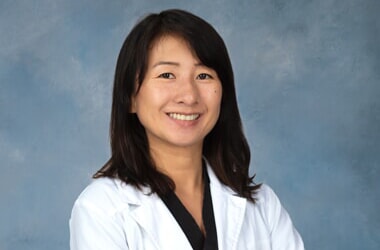 Sascha Qian, MD, is board-certified in Anesthesiology and Pain Medicine. She earned her medical degree from the Yale University School of Medicine, where she also completed a research fellowship. She performed a clinical fellowship in pain medicine at Massachusetts General Hospital in Boston after completing her residency in anesthesiology at New York Presbyterian-Columbia Medical Center in New York City. Prior to entering medical school, she graduated Phi Beta Kappa from Stanford University in Palo Alto, CA with a bachelor's degree in biological sciences. Dr. Qian is skilled in numerous interventional pain treatments and technologies to address chronic pain, including the growing area of regenerative medicine.
Q: What drew you to the field of pain management and/or anesthesiology?
A: The field of pain management has always interested me because it blends medical expertise, patient care and the ability to make a meaningful impact on patients' lives. The opportunity to employ cutting-edge technologies, employ advanced pain management techniques, and see patients experience significant pain relief has made interventional pain management an incredibly fulfilling and rewarding field for me.
Q: Are there any specific treatments, technologies, or diagnostic specialties that you are particularly excited about?
A: Minimally invasive procedures such as spinal cord stimulation and peripheral nerve stimulation have shown promising results in providing targeted pain relief. Orthobiologics (therapies developed from natural substances) are very exciting because there are an increasing number of nonsurgical options to help patients with degenerative conditions. VIA Disc is a non-surgical treatment that has been shown in clinical trials to repair damage to degenerative discs and provide significant pain relief and improved function. Regenerative medicine therapies, including platelet-rich plasma (PRP) and stem cells, can also promote tissue healing and regeneration.
Q: What do you enjoy the most about your job? What drives you to do it?
A: The most fulfilling aspect of my job is helping patients find relief from their chronic pain. I am driven to make a positive impact on my patients' quality of life. Witnessing people's improvement over time is incredibly rewarding.
Q: What gets you excited about working at NSPC?
A: NSPC offers a supportive work environment that focuses on comprehensive pain management through a collaborative and team-based approach to patient care, advanced treatment options and technologies.
Q: What do you like to do in your free time (hobbies, interests, etc.)
A: I enjoy running and hiking.
Q: What would you do for a living if you weren't a doctor?
A: If I had to choose a field outside of medicine, I would consider computer science because artificial intelligence can also meaningfully improve people's lives.
Q: What is your philosophy about doctor-patient interaction and patient-centered care?
A: I believe that patient-centered care is an important concept that requires ongoing engagement and commitment from both doctors and patients. By emphasizing collaborative doctor-patient interactions, shared decision-making, and good continuity and coordination, patient-centered care can optimize the patients' experience, improve health outcomes, and enhance their overall well-being.
Dr. Qian treats chronic and acute pain related to:
Carpal Tunnel Syndrome
Cervicogenic Headaches
Complex Regional Pain Syndrome
Degenerative Disc Disease
Facet Joint Syndrome
Occipital Neuralgia
Osteoarthritis
Post-Laminectomy Syndrome
Rotator Cuff Injuries
SI Joint Dysfunction
Spinal Stenosis
Tendinitis and Bursitis
Some of the treatments and procedures Dr. Qian performs include:
Cervical Epidural Injections
Thoracic Epidural Injections
Joint Injections
Kyphoplasty
Lumbar Epidural Injections
Medial Branch Blocks
Peripheral Nerve Blocks
Peripheral Nerve Stimulation
Radiofrequency Neurotomy
Sacroiliac Joint Injections
Spinal Cord Stimulation
Sympathetic Nerve Blocks
Trigger Point Injections
Vertebroplasty