Q&A: Yailiz B. Calderin, MD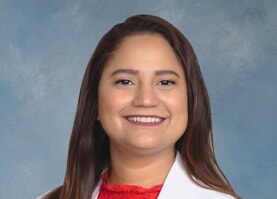 Yailiz B. Calderin, MD specializes in treating sports injuries, including concussion management, as well as ultrasound guided injections. She is fluent in English and Spanish.
Q: What drew you to the field of sports medicine, rehabilitation and pain management?
A: Physical medicine and rehabilitation give me the tools and resources to address different symptoms and conditions to help my patients regain functionality, independence and elevate their quality of life so they can enjoy their upmost potential. Simply put, it enables me to help people in the moment when they need it the most.
Q: Are there any specific treatments, technologies or diagnostic specialties that you are particularly excited about or have particular expertise with?
A: Rehabilitation and pain management are fields that continue to evolve, and I am particularly interested in sports injury management, including concussion management, as well as ultrasound guided injections, nerve conduction studies and electromyography, Viscosupplementation and trigger point injections. I am excited about cutting edge regenerative medicine as well, such as platelet rich plasma. I want to continue to grow my expertise so I can help my patients return to the activities they love.
Q: What gets you excited about working at NSPC?
A: NSPC is an institution with 30 years of experience that values the doctor-patient relationship and strives to provide all the tools necessary for its doctors to help patients improve their quality of life. They valued my expertise and have offered to help me achieve my goal of continuing to grow in my profession.
Q: What do you enjoy most about your job?
A: Seeing my patients thrive and return to the activities they enjoy the most makes me very happy. I look forward to the day when my patients arrive with news like, "I went back to playing tennis" or "I was able to enjoy vacations with my grandkids, thanks to you Doc!" It shows I was able to help them.
Q: What do you like to do in your free time (hobbies, interests, etc.)
A: I like the outdoors and enjoy going hiking, spending the day at the beach or river, playing beach volleyball, or just staying home and watching a good movie with my husband. I am also blessed with a big family that loves to find any excuse to spend time with each other.
Q: What would you do for a living if you weren't a doctor?
A: I suppose I would be a physical therapist, given that these professionals work hand-in-hand with patients and play a big role in helping people regain their functionality and well-being.
Q: What is your philosophy about doctor-patient interaction and patient-centered care?
A: I belief in an honest doctor-patient relationship where communication is key. I want to address my patients' concerns and answer all their questions so they can make an informed decision with regards to their treatment.