Sounding The Alarm: "Your Pain Is Trying To Tell You Something" – Aneesh Singla, M.D.
Category: News & Events
Posted On:
Written By:

Aneesh Singla, M.D., MPH
Modern society has programmed us to believe that pain is bad, but I believe pain, while uncomfortable and unpleasant, can actually benefit us in certain situations.
When we experience acute pain, our body is trying to tell us something. I liken it to the smoke alarm that goes off in the middle of the night: it is telling us that there may be a fire and is compelling us to act urgently.
The acute pain we feel is the body's way of alerting us to an underlying condition that needs attention. Sometimes that situation may be minor swelling or irritation that when treated with over-the-counter anti-inflammatories, rest, and heat or ice therapy, may resolve itself without additional intervention. Sometimes it is more serious, like in the case of appendicitis, a life-threatening infection in our abdomen. Without the pain alarm, we might not be properly alerted to a serious problem in our bodies.
When an acute injury or illness has resolved, but pain persists and becomes chronic, this dysfunctional pain alarm needs to be addressed by a pain specialist. As a member of the team of specialists in the field of pain management at National Spine & Pain Centers, I know that unresolved pain requires a closer look into the source of the pain.
Underlying conditions such as arthritis, scarring or degeneration of spinal vertebrae will cause problems that home remedies and basic anti-inflammatories cannot always address. It is our job to pinpoint the source and cause of your pain and then develop a treatment plan that helps you live with less pain and greater function with your daily activities.
That last part is important because not all causes of chronic pain are easily treatable. In some cases, we've yet to find the right treatment option; in others, the treatment may be available, but may not be an option because of a patient's other health conditions or age.
That is why I often counsel my patients to adjust their expectations around chronic pain. In some cases, our goal is not zero pain because that is simply not possible. So reducing pain and avoiding zero function becomes the goal: we want to see patients still function in their daily lives. We want them to work, drive, shop, etc., so that they can enjoy the highest quality of life possible while still living with pain.
In my book, Why It Hurts: A Physician's Insights on The Purpose of Pain, I suggest a simple formula for living with chronic pain: Happiness (H) = Reality (R) minus Expectations (E). Abbreviated, it looks like this (H = R – E). In a nutshell, this formula tells us that the odds of being happy and enjoying life will be better if we recognize that despite what the ads on TV tell us, sometimes the total elimination of pain is not possible. If we recognize that and set reasonable expectations, we are much more likely to find contentment, despite the presence of chronic pain.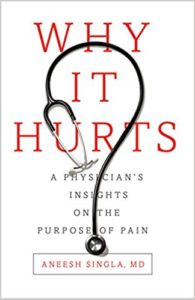 My hope is that someday soon my formula will benefit those suffering with chronic pain, and that the reality of newer and better treatments will exceed our expectations and we can reduce the burden of chronic pain while preserving the protection of the pain alarm. Every day the field of minimally invasive pain management sees radical advancements in our ability to treat the underlying source of pain, whether that be radiofrequency ablation of painful nerve endings, kyphoplasty to correct spinal compression fractures, or highly targeted corticosteroid injections that deliver pain-relieving medicine right to the problem area.
"It is our job to pinpoint the source and cause of your pain and then develop a treatment plan that helps you live with less pain and greater function with your daily activities." – Aneesh Singla, M.D.