Q&A: Matthew D. Holland, MD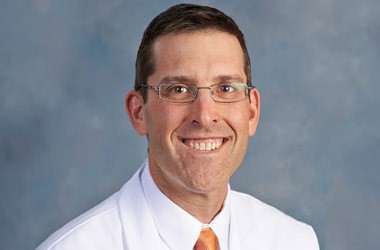 Matthew D. Holland, MD, earned his medical degree from the University of Texas Health Science Center in Houston and performed a combined internship and residency in Anesthesiology at the University of Virginia in Charlottesville. He then completed a fellowship in Pain Management at the University of Arizona in Tucson. He is board certified in Pain Management and Anesthesiology and brings more than 20 years of experience in interventional pain management diagnoses and treatments to his patients.
Q: What drew you to the field of pain management and/or anesthesiology?
A:I have always enjoyed the immediate gratification of interventions in pain management and anesthesiology. I love that we do not have to wait several months to see a change. Patients may see improvements in a matter of minutes to days, depending upon what we have done. Seeing how those relatively minor interventions can make big changes in people's quality of life is what I love about our specialty.
Q: Are there any specific treatments, technologies or diagnostic specialties that you are particularly excited about?
A: I see great promise in basivertebral nerve ablation and lumbar decompression. Both look like promising technologies that offer low-risk outpatient treatment options with the potential to offer patients a higher quality of life. We are also expanding our Botox services to include treatment for facial pain and temporomandibular joint dysfunction (TMJ) as well as migraines.
Q: What gets you excited about working at NSPC?
A: I love being part of a quality pain practice team that can deliver every part of the care that our emerging specialty delivers, rather than just a portion of the options that other providers offer.
Q: What do you enjoy the most about your job? What drives you to do it?
A: Practicing medicine gives you unparalleled access to people's lives, sometimes at a very dark time for them when they really need help. It is a privilege and an honor to be a part of that process. I never grow tired of helping restore health and function.
Q: What do you like to do in your free time (hobbies, interests, etc.)
A: I enjoy spending time with my family, hunting, and riding my bike on the hilly gravel roads and trails of central Virginia.
Q: What would you do for a living if you weren't a doctor?
A: I enjoy practicing medicine, and I do not see another career being as fulfilling. But I also enjoy the overlap between medicine and law, and if I were doing my life again, I would have gone to law school after medical school rather than doing a residency.
Q: What is your philosophy about doctor-patient interaction and patient-centered care?
A: I tell patients not to apologize for researching their issues on the web. More information makes a great starting point for discussion. The more a patient is involved in formulating their treatment plan, the more they are willing to engage in that plan and see long-term benefits.
Dr. Holland treats chronic and acute pain related to these and other conditions:
Bursitis
Cervicogenic Headaches
Complex Regional Pain Syndrome (CRPS/RDS)
Diabetic Peripheral Neuropathy
Facet Syndrome
Herniated Disc
Lower Back Pain
Migraines
Occipital Neuralgia
Osteoarthritis
Post-Laminectomy Syndrome
SI Joint Dysfunction
Spinal Compression Fractures
Spinal Stenosis
Tendinitis
TMJ pain
Some of the treatments and procedures Dr. Holland performs include:
Botox
Epidural Steroid Injections
Joint Injections
Kyphoplasty
Medication Management
Minimally Invasive Lumbar Decompression (MILD)
Nerve Blocks
Platelet Rich Plasma (PRP) Injections
Radiofrequency Ablation
SI Injections
Spinal Cord Stimulation
Trigger Point Injections