Q&A: Kris J. Alden, MD, PhD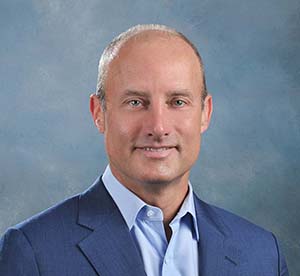 Kris J. Alden, MD, PhD, is a board-certified orthopaedic surgeon who is fellowship trained in hip and knee reconstruction. He completed a dual degree program in which he received his M.D. and Ph.D. concurrently at the University of Illinois at Chicago. Dr. Alden completed a residency in orthopaedic surgery at the Johns Hopkins Hospital in Baltimore, MD and a fellowship in hip and knee reconstruction surgery at Mayo Clinic in Rochester, MN. He is trained in the latest approaches to hip and knee replacement, minimally invasive surgery, and complex revision joint replacement. Dr. Alden has trained other surgeons across the U.S. and the world in innovative techniques for hip and knee replacement and revision hip and knee reconstruction surgeries.
Q: What drew you to your specific field of medicine?
A: I knew from the first day of my orthopaedics rotation in medical school that I wanted to pursue that specialty. I had been considering a career in cardiology because of my love for the cardiovascular system. However, I truly enjoyed seeing patients become more functional and active and that particular aspect of orthopaedic surgery drew me to the field.
Q: Are there any specific treatments, technologies or diagnostic specialties that you are particularly excited about or have specific expertise with?
A: I specialize in the treatment of hip, knee and shoulder arthritis and related disorders. I have a particular interest in using the most advanced and innovative techniques to achieve the best results for active patients, including surgical and non-surgical treatments. The goal is to allow for less invasive joint replacement surgery, with the aim of quicker recovery, less complications and faster return to a functional lifestyle.
Q: What do you enjoy the most about your job? What drives you to do it?
A: I truly enjoy helping patients regain an active lifestyle. I have had so many patients become more active, pain-free, and live a better life through hip, knee and shoulder replacement surgeries. I love helping people reclaim lost function and enhancing their ability to walk, move, run, bike and enjoy a range of activities with less pain.
Q: What gets you excited about working at NSPC?
A: I love the energy, positive atmosphere and commitment to patient care.
Q: What do you like to do in your free time (hobbies, interests, etc.)
A: I enjoy being outside participating in a range of activities including golf, running, biking and fishing. I love spending time with my wife and children and relaxing at the beach or by the pool.
Q: What would you do for a living if you weren't a doctor?
A: I love working with my hands, so I would probably be a carpenter. I enjoy fixing things around the house.
Q: What is your philosophy about doctor-patient interaction and patient-centered care?
A: I listen intently and treat every patient as I would want my family members to be treated. I work in a collaborative manner so that every patient feels that our treatment plan is tailored to their specific needs.
Dr. Alden treats chronic and acute pain in these major joints:
Some of the treatments and procedures Dr. Alden performs include:
Custom Knee Replacement
Direct Anterior Hip Replacement
Hip Injections
Hip Replacement
Knee Injections
Knee Replacement
Revision Joint Replacement
Shoulder Injections
Shoulder Replacement