Q&A: Sassan Hassassian, MD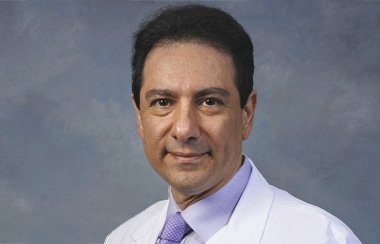 Sassan Hassassian, MD earned his medical degree at Eastern Virginia Medical School, after which he completed an internship in General Surgery at the Eastern Virginia Graduate School of Medicine. He completed his residency in Anesthesiology at New York University Medical Center and completed a fellowship in Pain Medicine at the University of Maryland Medical Center. He is board certified in Pain Medicine as well as in Anesthesiology and has repeatedly been selected as a "Top Doctor" by Washingtonian and Northern Virginia magazines.
Q: What drew you to the field of pain management and/or anesthesiology?
A: It allows me to help treat patients—young and old alike—with a vast array of painful disorders. Whether the pain stems from an injury or age, the field of Pain Management has many non-surgical treatment options that are changing the way we address chronic and acute pain.
Q: Are there any specific treatments, technologies or diagnostic specialties that you are particularly excited about?
A: The field of regenerative medicine, such as platelet rich plasma injections, has vast potential to address a large number of painful disorders. I'm also excited about neuromodulation procedures such as spinal cord stimulation, which is bringing new hope to chronic pain patients.
Q: What gets you excited about being a member of the NSPC-affiliated team?
A: By being a part of the largest interventional pain specialist group in the world, we have the ability to provide a unique and comprehensive plan of care for our patients.
Q: What do you enjoy the most about your job? What drives you to do it?
A: At the end of the day, what matters the most is being able to make a positive impact in someone's life by improving their quality of life.
Q: What do you like to do in your free time (hobbies, interests, etc.)
A: I enjoy biking, spending time with friends and listening to music. To be the best I can be at my day job, I always need to stay abreast of new medical technologies, but in my free time I also enjoy keeping up to date with the latest non-medical technologies as well.
Q: What would you do for a living if you weren't a doctor?
A: Once I became a teenager, I could never see myself being anything other than a physician. Before then, however, I might have seen myself as a fighter pilot.
Q: What is your philosophy about doctor-patient interaction and patient-centered care?
A: The ultimate success of any treatment hinges on a solid doctor-patient relationship where both parties are active participants in discussing and implementing treatment options.