Q&A: Nicholas J. Tannous, MD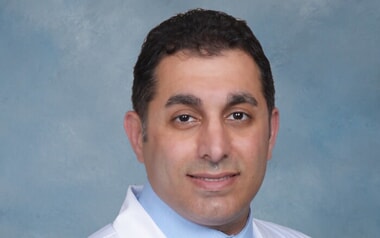 Nicholas J. Tannous, M.D. specializes in providing the latest techniques in minimally invasive pain management therapies, including kyphoplasty, spinal cord stimulation and vertebral spacers.
Q:What brought you into the field of pain management?
A: I did my residency in physical medicine and rehabilitation, and throughout our rotations I was exposed to different aspects of physical medicine, including interventional spine and joint management. I found that the physical medicine aspect enables me to do something quickly and easily to help my patients—and most importantly—without a great deal of cutting and surgery.
Q: What diagnostic specialties / treatments are you most interested in?

A: I enjoy doing all interventional procedures under fluoroscopic or ultrasound guidance, including kyphoplasty, spinal cord stimulation trials and implants, intrathecal pump implantation, Vertiflex™ spinal spacers and spinal fusion spacers.
Q: What gets you excited about working at NSPC?
A: NSPC is like the "Ivy League" of pain management. Its corporate and structured atmosphere provides extensive support to help physicians grow in the field of interventional pain management. This motivates me to explore new therapies and feeds my desire to continually learn and grow within my field.
Q: What do you like most about your job?
A: I enjoy being at the forefront of my field and delivering quality care to my patients. Seeing my patients improve motivates me to continue pushing forward.
Q: What's your favorite activity outside of work?
A: I enjoy hiking, swimming, yoga and traveling. I also enjoy playing video games on my PlayStation 4.
Q: What would you do for a living if you weren't a doctor?
A: I am the type of person that needs to constantly do things with my hands and my mind at the same time. If I were not a physician, I probably would choose a career in biomedical engineering, since I like to use my mind and hands to fix things. If you had asked me before medical school, however, I probably would've told you I wanted to be a veterinarian. The problem is that I hate the fact that euthanasia is a necessary part of that job.
Q: What is the most important factor in a doctor-patient relationship and why?

A: I believe patients should always be included as much as possible in their treatment regimens. When a patient participates in their treatment plan, it engages them to work toward regaining their mobility and functionality. Patients should be encouraged to make their own decisions and goals about which direction they would like to take in their treatment. Essentially, I give them options and direction, and they choose the ultimate path they want to take in their treatment.