Q&A: Joshua Tucker, DO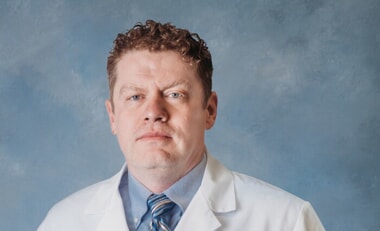 Joshua Tucker, D.O. earned his medical degree from Michigan State University College of Osteopathic Medicine in East Lansing, and conducted his residency in Physical Medicine and Rehabilitation with the University of Michigan Health System in Ann Arbor. He also completed a fellowship in Spine and Sports Medicine at the Spine and Sports Center in Houston. He is board certified in Pain Medicine and Physical Medicine and Rehabilitation.
Q: What drew you to the field of pain management and/or anesthesiology?
A: I enjoy the opportunity to make a difference in the lives of others through innovative pain treatments. I also enjoy teaching and participating in the advancement and application of pain medicine with my staff and colleagues.

Q: Is there a particular treatment or technology on the horizon that has you excited about pain management and opportunities to help your patients?
A: Procedures such as minimally invasive lumbar decompression (MILD), minimally invasive spinal stabilization and fusion, sacroiliac joint fusion, and spinal cord stimulation and peripheral nerve stimulation provide non-surgical pain relief options to patients who live with chronic pain.
Q: What gets you excited about working at NSPC?
A: I look forward to getting more training and experience in advanced procedures from the network of NSPC-affiliated physicians.
Q: What do you enjoy the most about your job? What drives you to do it?
A: I strive to support my patients and our staff. I enjoy resolving my patients' pain while also creating opportunities for our staff to feel celebrated and appreciated.
Q: What do you like to do in your free time (hobbies, interests, etc.)
A: I enjoy hiking, coaching basketball, music, and any activities that involve my family.
Q: What would you do for a living if you weren't a doctor?
A: I would go into fitness and nutritional counseling.
Q: What is your philosophy about doctor-patient interaction and patient-centered care?
A: The patient comes first! The relationship is strong when the patient participates and understands the plan, which is why I believe education is key to success in partnering with our patients.