Q&A: Francisco Ward, DO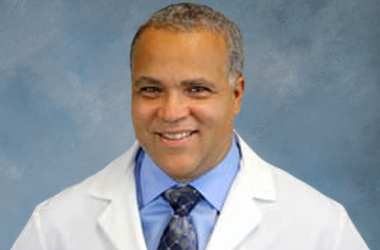 Francisco Ward, D.O. earned his medical degree from the Chicago College of Osteopathic Medicine and completed a residency and fellowship in Physical Medicine & Rehabilitation at Johns Hopkins University and Sinai hospitals in Baltimore, Md. He brings more than three decades of experience in minimally invasive interventional procedures and technologies to his patients at National Spine & Pain Centers.
Q: What drew you to the field of pain management and/or anesthesiology?
A: I began my medical career in Osteopathic and Physical Medicine & Rehabilitation. Physicians who referred their patients to me discovered that I was very effective at treating painful spinal or joint conditions. Patients appreciated my efforts to avoid surgical interventions by optimizing conservative measures and low-risk interventional pain procedures.
Q: Are there any specific treatments, technologies or diagnostic specialties that you are particularly excited about, have expertise with or wish to promote?
A: Improvements in minimally invasive surgical treatments to treat common degenerative ailments excite me, especially in their ability to bring pain relief to members of our aging population who may be suffering from conditions such as spinal stenosis or lumbar spondylosis. Minimally invasive lumbar decompression and percutaneous spinal stabilization show great promise in allowing people to maintain functional independence.. These technologies, combined with patient education on improved nutrition, posture, fitness, and a healthy mental outlook can help prevent future disease.
Q: What gets you excited about working at NSPC?
A: I am happy to be working with a group of people who share my values and want to provide patient-centered care.
Q: What do you enjoy the most about your job? What drives you to do it?
A: I find great satisfaction in easing my patients' pain and suffering so they can enjoy active, fulfilled lives.
Q: What do you like to do in your free time (hobbies, interests, etc.)
A: I have a large family that I enjoy spending time with. My hobbies and interest include herbal farming, board games, drone photography, kayaking, sailing and mentoring. I also lend my talents to efforts such as facilitating a proposed medical school at a local HBCU (Historically Black Colleges and Universities) so I can be part of systemic change to improve society at large.
Q: What would you do for a living if you weren't a doctor?
A: I'd be a science teacher, a craftsman/builder and a community organizer.
Q: What is your philosophy about doctor-patient interaction and patient-centered care?
A: Gaining the trust of my patients allows me to utilize my 30 years of experience to guide them on a journey of healing while minimizing their risk of further physical, psychosocial and financial harm.