NSPC-affiliated provider Sabrina Shue, MD, pens new book on Practicing Pain Management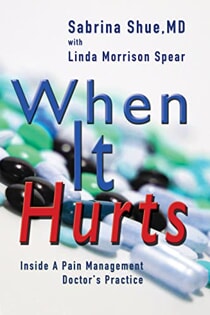 Is there a "typical" day for a pain management physician? Or a "typical" patient? Or a "typical" treatment?
Get an insider's look at what it takes to effectively treat pain, especially chronic pain, from Sabrina Shue, MD, an interventional pain management practitioner affiliated with National Spine & Pain Centers. Her new book, "When It Hurts: Inside a Pain Management Doctor's Practice," explains many of the nuances involved in successfully treating pain.
"The way patients experience pain is as unique as they are," Shue said. "Sure there may be common symptoms and proven treatments, but the stories in this book are intended to help people understand that each patient deserves care that reflects the fact that they don't care about how other people experience or get relief from pain. They need help with their pain."
With more than 20 years of experience in anesthesiology and pain management, Dr. Shue calls upon some of her medical cases to explain the physiology and pathology of pain and diseases, as well as how she determines the best way to treat conditions such as chronic back and neck pain, sciatica, osteoarthritis and spinal compression fractures.
"One of the chapters talks about how we diagnose conditions," Shue said. "I always take the time to ask my patients where they hurt and how they hurt. Sometimes that leads to them saying, 'Didn't you read my MRI?' And that's my opportunity to remind them that I treat them, not the picture."
The book also covers the challenges and precautions needed to treat chronic pain patients in the age of opioid abuse. "Even though my narcotic-using patients consist of a small percentage of my practice, I increasingly found that the majority of my daily work-related stress stemmed from managing them," she writes.
Dr. Shue explains how non-narcotic treatments, such as corticosteroid injections, radiofrequency ablation, platelet rich plasma, and kyphoplasty, offer patients effective pain relief without the need for hospitalization or extended recovery times.
"I share the stories of patients who came into my office in wheelchairs and following kyphoplasty in our procedure suite, walked out on their own," Dr. Shue said.
Throughout the book, Dr. Shue demonstrates her commitment to truly listening to her patients (even when they monologue about everything from their swimming routine to a sick brother), because she says they often teach her things as much as she helps them understand their pain and treatment options. "I learn from each of them in terms of how they present their pain and disease, and in how they respond to different treatments," she said.
Despite advances in interventional pain treatments, Dr. Shue often counsels her patients to set realistic expectations about their treatment outcomes. "While there are a variety of options available to treat chronic pain, it usually cannot be cured, only managed," she writes. "The overall goal of chronic pain management is to reduce discomfort and to help patients return to daily living."
"When It Hurts: Inside a Pain Management Doctor's Practice" by Sabrina Shue, MD, with Linda Morrison Spear, is available from Amazon, Bookshop.org, and wherever books are sold. All profits from the book will go to Operation Smile, a medical mission which provides access to treatment for cleft lip and cleft palate to those who are unable to have surgery because it's too costly, not available near them or of inadequate quality.
Copies of the book, signed by Dr. Shue, are available at her NSPC-affiliated office while supplies last.