Q&A: Michael Mueller, MD, MPH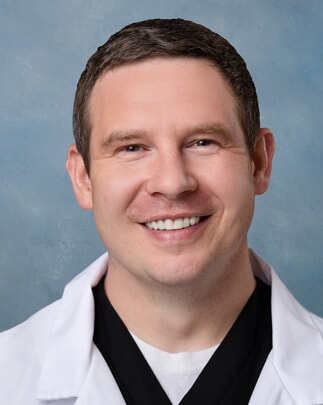 Michael Mueller, MD, MPH specializes in providing the latest techniques in neuromodulation therapies, including spinal cord stimulation, to improve his patients' daily function and quality of life.
Q: What brought you into the field of pain management?
A: I enjoy trying to find the ideal match between a treatment and the patient. This requires knowing the patient in a variety of ways—not just what causes them pain, but what activities they want to engage in, how their pain is affecting their life, and if they wish to try or avoid particular treatments.
Q: What diagnostic specialties/treatments are you most interested in?
A: The field of neuromodulation (using electrical current to alter or block pain signals) has made significant advances recently that have resulted in improved pain relief and patient function. These improvements will continue to take place in the future and allow for smaller devices, longer battery life, and reduced impact on the patient's daily life. A growing subfield of neuromodulation is peripheral nerve stimulation. Using ultrasound, a specific nerve is identified and targeted for stimulation. By having a variety of therapeutic options, we can match a patient's pain generator with the treatment that works best for them rather than a one-size-fits-all approach.
Q: What gets you excited about working at NSPC?
A:I'm excited to work with a team of people who are focused on providing outstanding patient care and seeking to constantly improve. Dr. Kuzma and the staff have a long history in the community and I hope to learn from all of them as well as bring new treatments to our area.
Q:What do you like most about your job?
A: One of the most satisfying aspects of working in chronic pain is hearing patients report that they are able to engage in activities they didn't think possible or that they hadn't participated in for years. In many patients, chronic pain has altered nearly every facet of their life. Increasing function becomes a catalyst to improve the patient's overall health. The ultimate goal is to have patients improve to the degree they don't need to come back.
Q: What do you like to do in your free time?
A: I like to spend time outside, getting to know the area. I enjoy traveling to new places, as well as visiting friends and family.
Q: What would you do for a living if you weren't a doctor?
A: I have no clue! I am a third-generation physician. My paternal grandparents immigrated from Germany in the 1920s. My grandmother was an ophthalmologist and my grandfather was a general surgeon. My father was an OB/GYN and worked with my mother who was a nurse-midwife. I remember coming with my mom to the farms of the Amish communities where she would do home births. It took me a long time to realize I wanted to become a physician, but I can't imagine doing anything else.
Q: What is the most important factor in a doctor-patient relationship and why?
A: Trust. As a clinician, decisions are made based upon known information. This requires us to ask the right questions and listen, and for the patient to be as open and clear as possible.