Living Without Pain Podcast: Featuring Dr. Kunal Sood MD
Have you asked yourself any of the following questions?: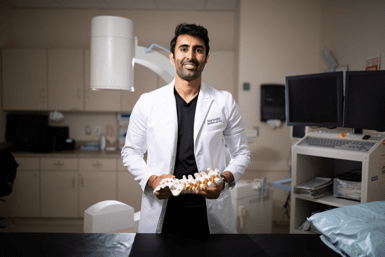 What is the difference between acute and chronic pain?
What are some common risk factors for chronic pain? What are some common therapies you use in your practice? How do they work?
What are your thoughts on therapies like acupuncture, massage, physical therapy, chiropractic care, and herbal medicines for chronic pain management?
At what point do you feel like opioids are actually appropriate?
Join Dr. Hanisha Patel as she interviews National Spine & Pain Center's affiliated provider, Dr. Kunal Sood. Together, they discuss pain as a broad condition, as well as several conventional, and non-conventional treatment options. Kunal focuses specifically on the importance of treating pain before opioids and surgery.
Kunal Sood, M.D. joined National Pain & Spine Centers after completing his interventional pain medicine fellowship and anesthesiology residency at Wayne State University's Detroit Medical Center. Dr. Sood is double Board Certified in Anesthesiology and Pain Medicine.
Dr. Sood was drawn to anesthesiology because of the diverse cases, procedure variety and helping patients navigate a stressful time in their lives. While practicing anesthesiology, he was attracted by the pain management aspect of the specialty. Dr. Sood's goal is to quickly diagnose the source of pain, discuss the most effective evidence-based medicine, diet and lifestyle modifications and create a personalized thorough treatment plan for each patient making modifications as needed. He understands that living with chronic pain is debilitating and by diagnosing and treating the cause of his patient's pain, he hope to immediately bring back their quality of life.
Passionate about health and fitness, Dr. Sood spends his downtime away from the practice playing basketball and tennis. He also loves to stay active by traveling, trying new restaurants and visiting with family and friends.
Listen to the podcast here.