September is Pain Awareness Month - Managing Chronic Pain During the COVID 19 Pandemic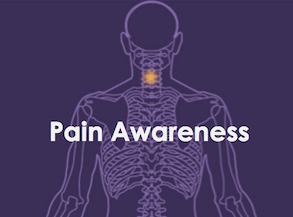 Each September we celebrate National Pain Awareness Month, a time dedicated to raising awareness about pain issues. Controlling pain and dealing with stress is challenging for many people in 2020. Due to the COVID 19 pandemic, this year will be remembered as a period of significant changes but also as a time for innovation. Patients and health care providers have discovered creative ways to interact and conduct health care visits. People have started to focus more on the essential things in their lives, like health, family, and their communities.
How are people handling pain issues during the pandemic?
Due to fears of contracting the COVID 19 virus, many people are experiencing increased levels of pain, anxiety, and uncertainty. In April 2020, the U.S. Pain Foundation conducted a survey of 664 individuals with chronic pain to see how they are navigating these new challenges.
All 50 states and Washington, D.C. were represented in the survey. The respondents had a variety of chronic pain issues, that generally represent the U.S. population, at large.
The most common pain issues were:
Back pain (69.1%)
Neuropathy (59.3%)
Neck pain (53.7%)
Osteoarthritis (44.5%)
Fibromyalgia (44.1%)
Headache or migraine (42.5%)
Autoimmune diseases (29.9%)
The participants were asked about how the COVID 19 crisis had directly affected them.
These were their main concerns:
A majority of people (86.1%) said they were feeling increased stress.
The second largest concern (63.8% of respondents) was increased pain.
Fears of contracting COVID 19 while visiting doctors' offices.
Prolonged pain as a result of delayed elective surgeries, such as back surgery.
Being unfamiliar with telemedicine.
Decreased mobility after not being able to schedule appointments that require in-person interactions, like massage and physical therapy.
Stress and pain - two sides of the same coin
It is not surprising that for most survey participants stress was the top concern, followed by worries about increased pain. Stress and pain are closely related.
Studies show that both psychological stress and physical pain create the same response in the body. Both increase stress hormones and lead to a sympathetic "flight or fight" response, followed by a period of fatigue.
A person with chronic pain going through a stressful period is caught in a vicious cycle — stress increases their pain levels and uncontrolled pain stresses the body. Adequate treatment for the pain and taking steps to reduce stress, can break this vicious cycle.
Tips for handling stress and reducing pain
Stay physically active. Exercising is now more important than ever. Physical activity releases endorphins, that help reduce pain levels. If you have been inactive for a long time, begin with light exercises and build from there. Swimming, yoga, elastic band exercises, and stretching can help you stay strong and flexible.
Control your pain better. Ask your pain specialist how your pain medications work. Some pain medications (anti-inflammatories, acetaminophen, opioids) have an immediate pain-relief effect. Others (anti-depressants, anti-convulsants) have a less noticeable effect, yet stopping them will increase your pain levels. Control your pain more aggressively. Stay ahead of the pain by taking your medications on a schedule.
Avoid dealing with stress in harmful ways. Avoid alcohol, illegal substances, smoking, or emotional eating. Alcohol and illegal substances can interact with some pain medications, causing sedation and overdoses. Smoking slows healing. A high-sugar diet causes inflammation. Look for positive outlets forstress. Talk over your concerns with friends and family, enjoy nature, spend time with your pet. Connect virtually with therapists and counselors if stress overwhelms you.
Get enough sleep. The brain turns-off during sleep, giving you a chance to recover from pain. Have a sleep routine. Keep the television, laptops, and phones out of your bedroom. Stay away from bright light at least one hour before bedtime. Do not nap excessively during the day.
Communicate with your pain specialist on a regular basis. It is easier to control your pain if you receive the appropriate treatments, on time. Some patients need regular interventions like epidurals, nerve blocks, intrathecal pump refills. If you fear that going to a doctor's office puts you at risk for COVID 19, voice your concerns with the office personnel. Most offices take added precautions like limiting the number of patients in the waiting room, performing temperature checks, and testing employees regularly. Telemedicine appointments may be available and recommended for you.
If you are experiencing increased pain during this period, don't wait, schedule an appointment for the relief you deserve.