Seamless Continuity of Care: Spinal Cord Stimulation and Intrathecal (IT) Pump Implants now implanted at National Spine & Pain Centers
National Spine & Pain Centers has launched a new service to provide patients in Maryland and Virginia with seamless continuity of care for permanent spinal cord stimulation (SCS) and intrathecal (IT) pump implants.
SCS and IT pumps can provide significant relief from the debilitating chronic pain associated with conditions such as complex regional pain syndrome, spinal stenosis and failed laminectomy. Until now, however, patients who were identified by NSPC physicians as potential candidates for these procedures often had to wait several months from diagnosis to permanent implantation.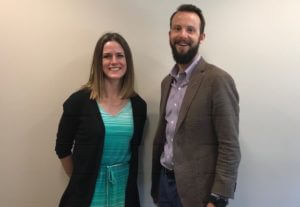 With the launch of National Spine & Pain Centers' new Pain Psychology Division, Phillip Keck, PhD, LCP and Julie Bivins, LCSW, will perform the pre-surgical psychological evaluations required by insurance companies in order to proceed with a SCS or IT pump trial. Previously, potential candidates for these procedures had to be referred to outside providers for these evaluations, often waiting weeks to be seen.
To offer maximum convenience and efficiency, Dr. Keck will conduct on-site evaluations from his Henrico, VA office and telehealth evaluations from six NSPC clinics in Virginia (Charlottesville, Manassas, McLean, Roanoke, Shirlington and Winchester).
Following documentation of the patient's risk profile (including opioid risk) from Dr. Keck, optimal candidates for implantable therapies can proceed with a SCS or IT pump trial from their NSPC physician. Following a successful trial, patients will be referred directly to NSPC's Vipul Mangal, M.D., for permanent surgical implantation within 30 days. With the addition of Dr. Mangal, patients no longer need to wait several more weeks to be seen by an outside surgeon. Dr. Mangal will be performing permanent SCS and IT pump implants in NSPC's surgical suite in Waldorf, MD until our new 13,000-square-foot surgical center at National Harbor is complete this fall.
This new service line will provide NSPC patients with access to comprehensive, advanced pain management therapies that produce better functioning and quality of life—with the added convenience of receiving all treatments in-house and without hospitalization and the associated risks of surgery. It also means we can ensure our patients receive proper and thorough follow-up within the NSPC system. This is especially important as part of our on-going efforts to monitor patients and provide solutions to our current opioid crisis.