2018 ASIPP Lifetime Achievement Award Recipient, Dr. Peter Staats
National Spine & Pain Centers' Chief Medical Officer Dr. Peter Staats received the Lifetime Achievement Award during the 2018 American Society of Interventional Pain Physicians (ASIPP) 20th Annual Meeting in March at the Marriott Orlando World Center in Florida. Dr. Staats was recognized for his contribution to ASIPP over the years and for his work in promoting the mission and vision of ASIPP. Dr. Cyrus Bakhit from National Spine & Pain Centers' Roanoke, VA office was also recognized at the event, receiving a Distinguished Service Award for his efforts to support and promote ASIPP.
ASIPP is a not-for-profit organization that represents interventional pain physicians across the country. The organization has been growing rapidly since 1998 and has had a substantial impact on the practice and advancement of interventional pain medicine.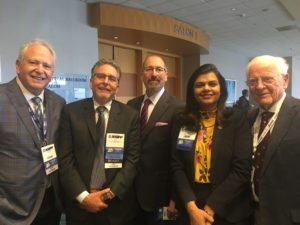 The ASIPP annual meeting is the largest meeting in the country for interventional pain physicians and other providers. The meeting offers an extensive practice management session with multiple and intensive coding and compliance lectures for physicians and staff members. The faculty includes experts in the field of interventional pain management, drug therapy, practice management and current affairs. This year's educational events included practice management, controlled substance management, regenerative medicine, interventional techniques, abstract presentations, a resident/fellow section for emergence into practice, and much more. National Spine & Pain Centers' CEO Jim Robinson, CMO Dr. Peter Staats, President Dr. Douglas Wisor, VP of Corporate Development Robert Manning, Drs. Cyrus Bakhit, Suneetha Budampati, Assaf Gordon, Paul Kuzma, Sean Li, Ketan Patel, Aneesh Singla, and Carol Drescher attended the event this year.