Dr. Sean Li Leads Lectures at 2018 NYSIPP Mid-Year Pain Management Meeting in New York
Dr. Sean Li from Premier Pain Centers, an affiliate of National Spine & Pain Centers, recently led a lecture at the Third Annual NYSIPP Mid-Year Pain Management Meeting that was held on June 16, 2018 at Uris Auditorium, Weill-Cornell Medical College in New York. The goal of the meeting was to disseminate best practices in the assessment, diagnosis, treatment, and management of patients with pain. The agenda includes informative presentations and discussions on a variety of important business topics: Workers Compensation Guidelines, Staffing Procedures & Policies, Political Updates, and Opioid Panel Discussion. Dr. Li presented on Should I Invest in ASC? The lecture was about interventional pain management in the ambulatory surgical center.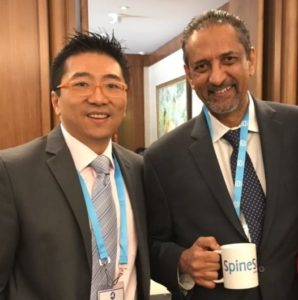 About NYSIPP
New York Society of Interventional Pain Physicians (NYSIPP) is a state chapter of the American Society of Interventional Pain Physicians (ASIPP). NYSIPP's mission is physician, patient, government and payer education and advocacy that supports delivery of effective, safe and appropriate practice of interventional pain medicine by NY State physicians to improve the function and quality of life of their patients. Manhattan Spine & Pain Medicine's Dr. Sudhir Diwan is the Executive Director of NYSIPP.
About Dr. Sean Li
Dr. Sean Li specializes in interventional pain management. His clinical interest is in neuromodulation therapy such as spinal cord stimulation, high-frequency stimulation, dorsal root ganglion stimulation and peripheral nerve stimulation. He has published numerous professional articles and written textbook chapters on the topic of pain and is actively involved in clinical research that will help advance the field of interventional pain medicine.