NSPC's Dr. Balint Leads a Patient Seminar on Interventional Pain Management
Dr. Virgil Balint from our Reston, VA Office recently conducted a free patient education seminar in Reston on July 19, 2017. Dr. Balint discussed interventional pain management, specific conditions, procedures, and medication management. The program was hosted by hosted by Tall Oaks Assisted Living, Reston, VA senior community providing comfortable and affordable apartments and assisted living care. The topic of the seminar was 'The Role of Interventional Pain Management in the Treatment of Chronic Pain'.
The free education seminar was organized for residents of Tall Oaks Assisted Living. 25 attendees including residents of Tall Oaks, along with family members, Reston residents, nurse case managers, and community liaisons from home healthcare companies attended the program. The attendees were remarkably engaged and asked Dr. Balint great questions. At the end of the program, Dr. Balint expressed that he felt very well supported by his team.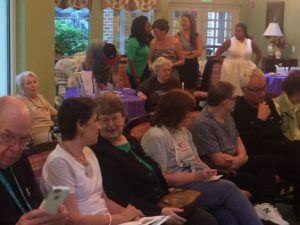 Dr. Balint is board certified in Physical Medicine & Rehabilitation as well as Pain Medicine. Committed to improving quality of life for his patients, Dr. Balint dedicates considerable time to research and master the newest techniques and breakthrough therapies. He is skilled in a wide range of non-surgical pain management techniques, including but not limited to fluoroscopic-guided injections, radiofrequency neurotomy, and prolotherapy. He has contributed to books and published journal articles, and continues to actively lecture in the medical community and public on numerous pain-related topics, including SI joint syndrome, spinal stenosis chronic pain, occupational low back pain and interventional pain techniques.