David F.'s Story
Author: David Francis
Date Submitted: Sep 19, 2019
Category: General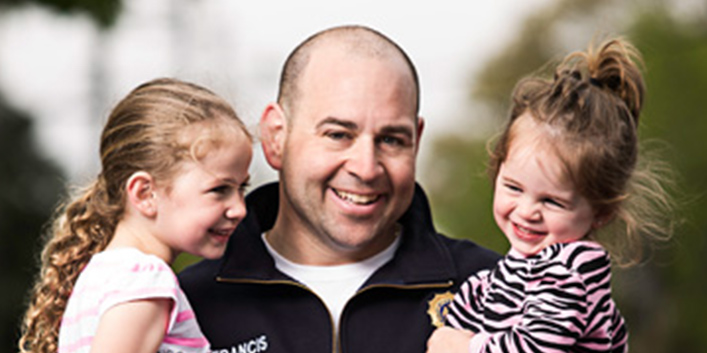 "I wondered if I would be able to go back to being a cop," said David. "Dr. Kohane got me back on my feet. He was confident that I'd be back to work and playing my sports again—golf, softball and ice hockey—and he was right."
"I had never felt pain like that before. It extended from my lower back down my leg, and it was excruciating," said police officer David F..
David's struggle with back pain began in 2010. He suspects that genetics and excess body weight (at one time he weighed quite a bit more than he does today) were the cause of his two herniated discs.
A neurosurgeon referred him to New York Spine & Pain Physicians (an affiliate of National Spine & Pain Centers).
For a while, his pain was kept in check with epidural steroid injections several times a year. The injections deposit long-acting, anti-inflammatory medicine into the irritated area.
But in February 2012, David found himself unable to get up from the couch. "My wife had to call an ambulance."
David had spinal-fusion surgery to permanently connect two painful vertebrae in his back, and eliminate the motion between them. Following the procedure, David returned to New York Spine & Pain Physicians and eventually saw Dr. Daniel Kohane.
David described Dr. Kohane as someone with excellent people skills. "Dr. Kohane is a good listener," he said. "He understands the misery of patients in pain and he takes the time to get to know you. He doesn't rush you out of the office."
David continues to see Dr. Kohane because he occasionally needs an epidural injection for the pain. "I think of it as preventive maintenance," said David.
"I wondered if I would be able to go back to being a cop," said David. "Dr. Kohane got me back on my feet. He was confident that I'd be back to work and playing my sports again—golf, softball and ice hockey—and he was right."