Q&A: Julio Cesar Gomez, DO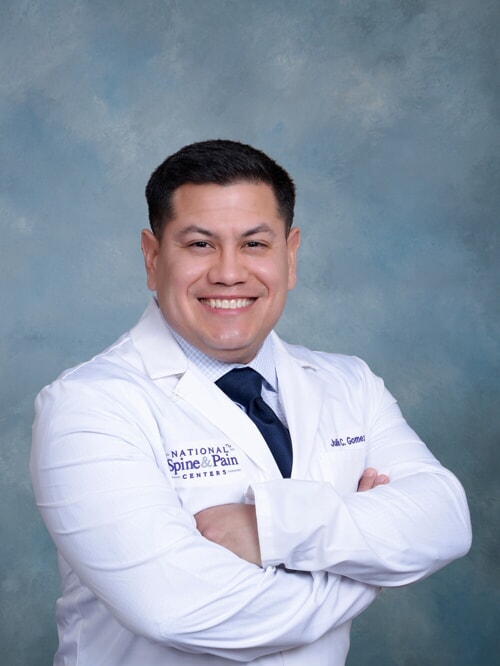 Julio Cesar Gomez, D.O. specializes in using diagnostic ultrasound to identify the source of his patients' acute and chronic musculoskeletal pain so he can develop the most effective treatment plans. He was an active-duty flight surgeon for the U.S. Air Force and is currently serving as a Major in the D.C. Air National Guard. He is fluent in English and Spanish.
Q: What drew you to the field of sports medicine, rehabilitation and pain management?
A: I was drawn to the field of Physical Medicine and Rehabilitation after treating many acute injuries in fighter pilots and pararescue/tactical teams during my time as an active-duty Flight Surgeon in the United States Air Force. I knew I wanted to focus on interventional spine care and musculoskeletal medicine to restore and improve function in service members and civilians with acute and chronic injuries.
Q: Are there any specific treatments, technologies or diagnostic specialties that you are particularly excited about or have particular expertise with?
 
A: I am excited about utilizing unique interventional procedures and diagnostic musculoskeletal ultrasound to better identify and treat the source of my patients' pain. In addition, regenerative medicine is a growing field that is making a difference in the quality of life for every-day working citizens, military service members, and even Olympic athletes.
Q: What gets you excited about working at NSPC?
A: I like the comradery between the medical team and the organization's dedication to the advancement of interventional techniques. I also appreciate the commitment NSPC has to promoting the professional growth of its network members.
Q: What do you enjoy most about your job?
A: I enjoy watching my patients follow a path to healing that enables them to regain their independence and confidence.
Q: What do you like to do in your free time (hobbies, interests, etc.)
A: I like to spend time with my family, especially traveling.
Q: What would you do for a living if you weren't a doctor?
A: Having served in the U.S. Air Force as a flight surgeon, I would be a military pilot. I have experienced the thrill of supersonic flight in aircraft such as F-4s, F-15s, F-16s and T-38s.
Q: What is your philosophy about doctor-patient interaction and patient-centered care?
A: I believe both patient education and autonomy are key to successful outcomes in the effective treatment of acute and chronic pain.