Q&A: Francesco Vetri, MD, PhD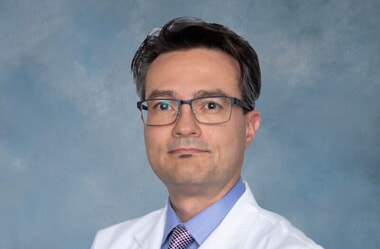 Francesco Vetri, M.D., Ph.D. specializes in putting his background as a neuroscientist to work in his clinical practice of pain management, notedly through neuromodulation techniques for patients with chronic pain. A native of Italy, he is fluent in Italian, English, Spanish and French. He also speaks some Hungarian.
Q: What drew you to the field of pain management and/or anesthesiology?
A: I have a strong will to acquire the knowledge and skills necessary to help patients who suffer with pain that impacts their ability to enjoy even life's simplest pleasures.
Q: Are there any specific treatments, technologies or diagnostic specialties that you are particularly excited about, have expertise with or wish to promote?
A: I am very excited about neuromodulation and other minimally invasive solutions for the treatment of vertebrogenic pain, sacroiliac joint dysfunction and spinal stenosis. We are part of several research studies designed to advance science and develop therapies I can offer to my patients, including regenerative medicine.
Q: What gets you excited about working at NSPC?
A: I am happy to be part of a big family of pain professionals who are dedicated to their practice. They are always seeking new and innovative ways to treat chronic and acute pain through minimally invasive procedures that can spare patients from having more extensive surgical procedures.
Q: What do you enjoy the most about your job? What drives you to do it?
A: I enjoy being able to help my patients regain their function and return to their work and pleasurable activities. When I do that, I like to feel that I have made a difference in people's lives.
Q: What do you like to do in your free time (hobbies, interests, etc.)
A: I like playing with my kids, exercising, and cultivating my spiritual life.
Q: What would you do for a living if you weren't a doctor?
A:I would be a full-time neuroscientist, just like I was in my "previous life".
Q: What is your philosophy about doctor-patient interaction and patient-centered care?
A: I take pride in the relationships I establish with my patients. I treat everyone with care and respect and over time, they become like family members to me.