Q&A: Avni Gupta, MD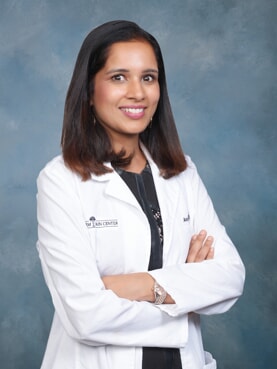 Avni Gupta, MD specializes in advanced treatments for chronic pain, including neuromodulation, intravertebral spacers and neurotomy.
Q: What drew you to the field of sports medicine, rehabilitation and pain management?
A: The ability to improve someone's quality of life and help them enjoy the activities of daily living motivated me to obtain an expertise in pain management. The field of pain management has made advancements rapidly, with various minimally invasive therapies such as neuromodulation, intraspinal spacers and sacroiliac joint fusions enabling pain management physicians to be the primary source of care for chronic pain.
Q: Are there any specific treatments, technologies or diagnostic specialties that you are particularly excited about or have particular expertise with?
A: I offer a variety of treatment options to help eliminate intractable pain, including but not limited to, epidurals, nerve blocks, radiofrequency ablation, neuromodulation, kyphoplasty, intrathecal drug therapy and other minimally invasive spine surgeries like MILD and intraspinal spacers.
Q: What gets you excited about working at NSPC?
A: NSPC has a great leadership team that focuses on transparency, promoting education and following evidence- based medicine to help its patients while also building strong relationships with referring providers.
Q: What do you enjoy most about your job?
A: I strive to not only reduce pain but restore function and improve the quality of life of my patients. The happiness on their faces after feeling better is very rewarding for me.
Q: What do you like to do in your free time (hobbies, interests, etc.)
A: I like to spend time with my family, travel and I'm learning how to dance.
Q: What would you do for a living if you weren't a doctor?
A: Even though I always imagined myself to be a physician (even as a little kid), if I were not a doctor, I would have been a homemaker and would volunteer in schools and in my community.
Q: What is your philosophy about doctor-patient interaction and patient-centered care?
A: My practice philosophy is to blend medical innovation, evidence-based medicine and compassion to meet each patient's individual goals. I care for my patients as I would my own family members. I spend time with them so I can perform a thorough evaluation and tailor the treatment plan to fit their unique needs. I believe that patient education and the establishment of a caring doctor-patient relationship are an integral part of the healing process.